Whatsapp has got several new features over the past few years, among these one of the most important is the read receipt feature. This is the one that turns the read message (double ticks) turn blue in color once the recipient reads it. Although many of us might not be having any issue switching this optional feature on WhatsApp then there are times when you don't want others or the sender to know that you have already read his/her message.
WhatsApp possibilities for better use
Almost all of us have WhatsApp on our smartphones. But do we really use its full potential? You don't want anybody to see your chats? Do you want to become invisible to your contact list? You can learn these and many more interesting hacks by just having a look at your Settings tab.
If you don't want everybody to see you online or check your status, pics, or account info, use the following trick:
For Android: Go to Menu > Settings > Account > Privacy. Change the settings of personal data visibility.
For iOS: Go to Settings, and open the Privacy tab. Then change your settings there.
Add a chat link to your home screen (contact shortcuts)
If you are texting somebody pretty much all day or have a favorite chat that you need quick access to, you can easily add a link to it on your home screen (it works only for Android devices).
All you need to do is tap and hold on to a chat and then click on three vertical dots on the top right of your screen and choose "Add Shortcut". That way you won't have to go through all your chats to find the one you need. It will be already on your home screen!
And finally a contact add to your home screen👨🏿‍🤝‍👩🏾‍🤝‍🧑🏻
The option shown below is very useful in the case of having a frequent and important client since by being able to add it to our home screen we will always have it in view so that it will never be overlooked and also this adds comfort when it comes to having to start a conversation.
To add a chat to your phone's home screen, open the contact or group in question, then tap the three-dot menu in the upper right corner. From here, visit More> Add Shortcut. Then just tap on Auto Add or long-press the icon to place it on your home screen.
Create a custom 📁notification for a contact
If you run a business and the way to communicate with your customers is via WhatsApp, this solution will interest you a lot since it allows you to customize customer notifications so that without having to look at the mobile you can already know who has written to you.
To create a custom notification, you will need to enter a chat with the desired contact. From here, you need to tap on your name at the top of the chat window and choose Custom Notifications.
Once you've entered this menu, you'll want to check the box labeled Use custom notifications and scroll down to the next field to customize the alert. Customization options include changing the tone of the message and adjusting the LED notification color for the contact.
Stop Auto-saving
As you probably already know WhatsApp automatically saves every picture and video that is sent to you, so if you are sick and tired of constantly deleting unnecessary photos that your contacts message you, you can turn the auto-saving off.
Go to Setting then select "Chats" and turn off "Save to Camera Roll".
How To Create WhatsApp Link to your Mobile Number
If you need to create a WhatsApp link for your number, we are going to explain how easy this process is:
Go here and create your link to WhatsApp. You just need to add your phone number with your country code. This is very important. To create a link to your WhatsApp number you need to add your Country Code. Otherwise, the link will not work.
Once the number is added, you can add a message. The default message will help you identify the channel or campaign the user is using to reach you. You can create as many links as you need and you can use them in promotions, campaigns, posts, channels and you will be able to track them.
💻Use WhatsApp on your PC
When you are continuously answering messages for your business via WhatsApp, it may be easier for you to answer on a computer keyboard since it is usually faster. This option is available via WhatsApp web.
To get started, visit web.whatsapp.com on your computer. The website will display a QR code, which can be read on the WhatsApp mobile application. On your phone, tap on the three-dot menu in the upper right corner, then select WhatsApp Web to launch the QR code reader. Now, scan the website's QR code through your phone's QR code reader and you're done.
Star⭐messages (or bookmark®)
To find messages quickly and easily is the best option since if we are talking with a client we can mark certain messages that we can take a look at later in a simple way. We can mark the messages we want as favorites by going to the command with its symbol (a star) in the menu that appears when clicking on a message.
At times on WhatsApp you get some messages that you want to bookmark or save for later, it can be some important information or just a funny text that lights up your mood every time you see it.
For IOS users, there is a simple solution just double tap on a message and select the "Star" icon, you can later find it in the contact info where you'll have an option called Starred messages, OR you can also go back to the exact moment when this message was sent by tapping on the arrow next to the text.
To see them we have to go to the settings tab, the access being under the web / desktop client option. They come out in chronological order according to how we have marked them (oldest first).
Use WhatsApp a number other than our SIM card📱
As we probably know, WhatsApp asks us for a phone number to activate the account and to log in, sending an SMS with a code. Actually, the active SIM is necessary only for this and not for use once we have it activated, so once this is done we can change the SIM or remove it from the phone without logging out or losing anything.
Secretly reading📧 messages
Not everyone knows that you can actually read your whatsapp messages without its tick turning blue, to be able to do so you have to follow a couple of simple steps. First of all when you receive a message don't open it right away and dismiss all the notifications, then set your phone on "airline mode" that will turn your wifi for internet connection off, after that just open your app and read the text! Now nobody will know that you have already seen this message, sometimes this can be quite helpful.
The person who writes you can see whether or not you have read the message is a bit uncomfortable at times since you may have read the message but not answer it because you are busy, which can lead to misunderstandings. the best option in these cases is to deactivate the blue ticks so that nobody will be able to see if you read the messages or not. Selecting "Settings ⚙", then "Account" and then "Privacy", there you will find an option to "read receipts", just turn it OFF!📴
Know🕵️‍♂️who has read your messages in a group
If you are sending messages to a large group, it is difficult to know who has read your message and who has not. When you send a message, you see a single tick. When you see a double tick, it means that everyone in the group has received your message. When it turns blue, it means that all have read the message. However, if you only see a double grey tick and want to know who all have your message, simply long press on the message you have sent and click the 'i' (information) button on the top. This option will tell you how many people have received the message, how many have yet to receive it and how many have read it.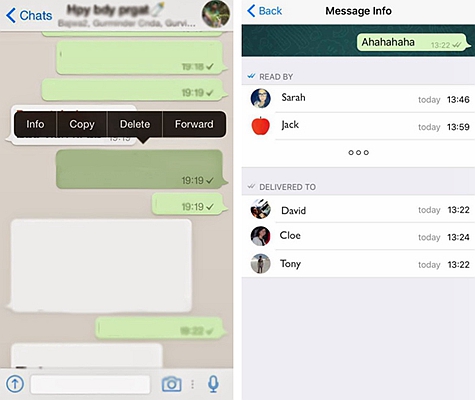 Knowing who has read the messages within a group at first seems a bit complicated since the ticks appear differently than a normal chat. when a single tick appears it simply means a message sent. when two appear it means that the participants have received the message, however, it is not until the two ticks turn blue until you know that the whole group has read it. To find out who has read it before the two blue ticks are placed simply long-press on the message you have sent and click the 'i' (information) button on the top. This option will tell you how many people have received the message, how many have yet to receive it, and how many have read it.
Find out the exact time 🕜someone has read your text.
This magical feature works for both Android and IOS devices. All you have to do was just hold on to any of your messages you are interested in and choose "info", there you'll see the time your message was sent and also the time it was read.
How to hide📥 and unhide📤WhatsApp chat
If you frequently use WhatsApp for professional or personal reasons and are looking for ways to enhance your chatting experience, here are some useful Whatsapp Latest tips and tricks that you can benefit from
For IOS users, Open WhatsApp and look for the chat that you want to hide. then, right swipe on the chat and click the "Archive" button, the chat is now archived and no longer visible in your chat list!
For Android users, Open WhatsApp and look for the chat you want to hide, then long-press the chat you want to hide, now click on the "Archive" button at the top right corner to hide the chat.
If you want to unhide an archived chat in WhatsApp,
For IOS users, Open WhatsApp and go to the top of the chat list, then pull down and you will get the 'Archived Chats' option. Top on the 'Archived Chats' option and right swipe on the chat that you want to unarchive, now tap on "Unarchive".
For Android users, open WhatsApp and scroll down to the bottom of the chats, you will see an 'Archived' option. Click on this to see the chats that you have archived. Now, long press on the chat that you want to unarchive and click on the "Unarchive chat" button at the top right corner.