Amazing Partners for your WhatsApp Project
Zoho developers for WhatsApp Projects | The best CMS for Photographers | The best CMS for Lawyers |  The best Inbox for Multiple Agents |  The best CRM for Hotels with WhatsApp |  More Partners worldwide

Youtube videos and video tutorials
WhatsApp Widget for MonoSolutions CMS | WhatsApp Widget for Framer CMS | WhatsApp Widget for Wix | WhatsApp Widget for HTML and PHP

Very Cool WhatsApp Businesses. Great examples for your landing page with WhatsApp.
---
WhatsApp Widgets to get leads
Increase conversions by placing a widget on your website. Solve your users' doubts with the FAQ, collect data with the Forms, receive payments, get them to contact you by WhatsApp to close the sale and much more!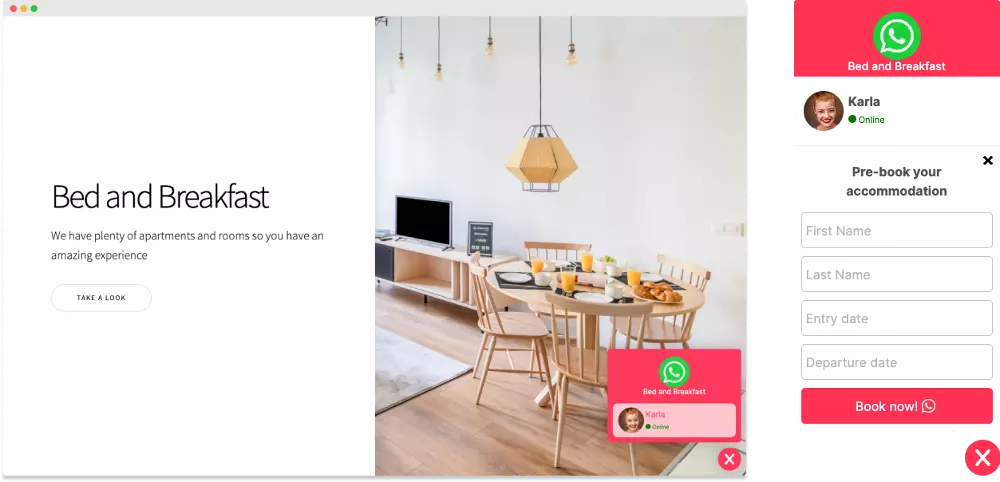 Choose your widget and start now!

Top WhatsApp Keywords, tutorials and manuals...
We are here to help you with the best manual, tutorials and WhatsApp FAQs.
Philippines country code | Brazil country code |  Storiesig chat | Whatsapp link | Whatsapp html code |  WhatsApp Widget RoadMap
WhatsApp API, Git Hub Repository, Resources for developers...
Get more from WhatsApp API, Our repository and open source solutions for developers.
WhatsApp Widget API | ChatWith.io GitHub |  WhatsApp Token and Authentication | WhatsApp API Oficial
Everything you need to get the best WhatsApp Widgets in your website
Manage your WhatsApp Leads with your control panel. Update, control, delete, organice your leads.
Define a recurrent message you want to send to your clients, workers or partners. Automate your reminders and updates.
Exactly like MailChimp but with WhatsApp. Send bulk messages to your clients with WhatsApp API.
Use Tochat.be in unlimited websites. Manage all your clients and agents from one account. You can use it with Drupal, Wix, Prestashop, Hubspot...
Add unlimited agents for differents countries, departmentes, individuals, goals, languages... Everything in once place, with cool stats.
You can control and track the performance of your WhatsApp Widget, agents and sales. We send events to Facebook and Google Analytics.
Before going to WhatsApp add a form and get more information from your users. Capture the lead before going to whatsapp 🌐 View YouTube video about Forms for WhatsApp
Send polls to your users in WhatsApp Groups or chats. NPS, Surveys, Quiz. Make your sales cycle more efficient.

🕹️ View YouTube video about Polls for WhatsApp
Get Paid in WhatsApp or Instagram using our links to payments. Share your link and get paid. View a demo here

💰 View YouTube video about Link to Pay with Stripe
Share your Calendar with a link and get paid for your bookings.
Create a cool landing page with a video to engage with your customers
Create your mini store and sell directly in WhatsApp
Frequently Asked Questions

Is there a free plan?

Yes, we have a free plan so you can start capturing leads and selling online.

How many widgets can I have?

You can only have 2 widgets in the free plan, but you can have unlimited widgets in the premium plan.

How many agents can I have per widget?

You can have as many agents as you want in each widget.

What can I do with the free plan?

In the free plan you can create up to two widgets. In each widget you can have several agents. You can also sell online using the Payment Links, have appointments with Bookings and have a free landing page.

Why should I become premium?

With the free plan you can do quite a lot, but there are limits. On the premium plan you have no limits, you can go further and unlock unlimited widgets and use Campaigns to reach more people in a better way. Going premium is the best option for businesses that want to go for more.

Do you offer any discount?

We always have the best possible price. Sometimes we launch discounts, but we have just released a $5/month plan, which may go up in price in the future, but if you sign up now you will keep that price forever.